Streamline Your Business with Outsourcing: How to Choose the Right Partner
Published By ella•May 8, 2023
Blogs,
Business Related,
Streamline Your Business with Outsourcing: How to Choose the Right Partner
In the past few years, outsourcing has become more popular as businesses try to streamline their operations and cut costs. The practice of employing an outside firm or person to carry out tasks that are typically done in-house is known as "outsourcing." But if outsourcing is the best option for your business, how should you go about doing it?
Here are a few concerns to consider when deciding whether you need to hire a remote professional:
Do you lack the manpower to complete a skilled task?
If your company lacks the expertise needed to perform certain tasks, outsourcing can be a cost-effective solution. Rather than investing in training and hiring new staff, outsourcing allows you to tap into the skills and knowledge of external experts.

Are you or your team not focusing on high-yielding, revenue-producing activities?
Outsourcing non-core tasks can free up time and resources to focus on core business activities, leading to increased productivity and profitability. Additionally, outsourcing can provide access to specialized technology and equipment that may not be financially feasible for your company to invest in.

Are you or your team overwhelmed and overworked with monotonous tasks?
If you're feeling stretched thin and struggling to keep up with the demands of your business, it may be time to consider outsourcing. By delegating these routine tasks to external experts, you can free up your time and focus on more strategic initiatives that will help your business grow.
What kinds of tasks are great for outsourcing?
Administrative tasks
Data entry, Bookkeeping, or Customer Support
IT tasks
Software development, web design, or data management
Marketing tasks
Search engine optimization, digital advertising, content marketing, and market research
Human Resource tasks
payroll Manager, benefits management, Accounting, and finance
Data Analytics tasks

How to outsource
When deciding which tasks to outsource, it's important to evaluate which tasks are taking up too much of your time or which tasks require a level of expertise that you or your team may not possess. Additionally, it's important to consider the cost-benefit of outsourcing, as some tasks may be more cost-effective to keep in-house depending on the size and needs of your business.
If you've decided that outsourcing is the best option for your business, there are a few things you should do to ensure a successful outsourcing experience:
Define your goals
Before outsourcing, you should define your goals and what you hope to achieve. This will assist you in selecting the best provider and ensuring that everyone is on the same page.

Choose the right outsourcing partner
When choosing an outsourcing partner, look for one that has experience in your industry and offers the services you need. Ask for references and do some research to make sure the service provider is reputable and trustworthy.

Clear communication
A successful outsourcing relationship requires clear communication. Make sure to communicate your expectations and requirements, and keep in touch with your provider to ensure that everything runs smoothly.

Monitor progress
It's critical to keep track of your outsourcing project's progress to ensure that it's meeting your expectations. This will assist you in identifying any problems early on and taking corrective action if necessary
Considerations to take
Outsourcing can bring many benefits to a business, but it's important to acknowledge and mitigate the potential risks and downsides.
Frequently asked questions
I am from a different timezone and I have a different language won't time zone and language differences cause misunderstandings or affect work quality?
HOPLA's Solution:
Our talents are all trained for competitive communicators in the English language. They are also aware and willing to follow any timezone your company is in.

How will my company data be handled?
HOPLA's Solution:
To mitigate risks of data leak or misuse, we have established clear security protocols, and strict file-sharing systems, and require non-disclosure agreements from the outsourced team members

How can I ensure I hire the right talent for my business?
HOPLA's Solution:
HOPLA's experts will be guiding you and sharing our expertise and best practices in identifying the best-fitting talents for your team. Before the start of the sourcing process, we will support you in identifying your ideal candidate avatar based on your business support requirements. Once this has been identified, HOPLA will be initiating our proven effective, multi-layered, and personalized vetting approach to provide you with the top candidate options for you to consider joining your team.
Your perfect solution for your outsourcing needs
You never have to be concerned with HOPLA.Online! At HOPLA, we understand that certain skills are better suited to certain cultures than others. Talent pools differ by country and different company cultures may necessitate a different approach.
Our goal is to create simple–to–manage remote teams. Functions that are usually time-consuming, administrative, data-driven, and process related. We have zeroed in on regions that serve these functions exceptionally well, so Southeast Asia, Eastern Europe, and South America are ideal for our model. In the past six years, HOPLA has been pioneering ways to make remote work, work for every company, no matter where they are. We have put together a successful, integrated approach to getting the right mix of people in your remote team. We will handle key operational aspects such as recruitment, HR, payroll, communication, tools and systems, and support.
Our commitment
We continuously invest in proprietary tools that make our and your remote teams more connected and productive. We commit to finding the best-fitting members your team needs. Based on the requirements you set, we assess each candidate's skills, experience, and cultural fit to ensure they will be a valuable addition to your team.   Additionally, we provide ongoing support and training to our remote teams to ensure they are equipped with the latest knowledge and skills needed to excel in their roles. We also have a full team of remote experts available to guide and assist your outsourced remote team members all the time!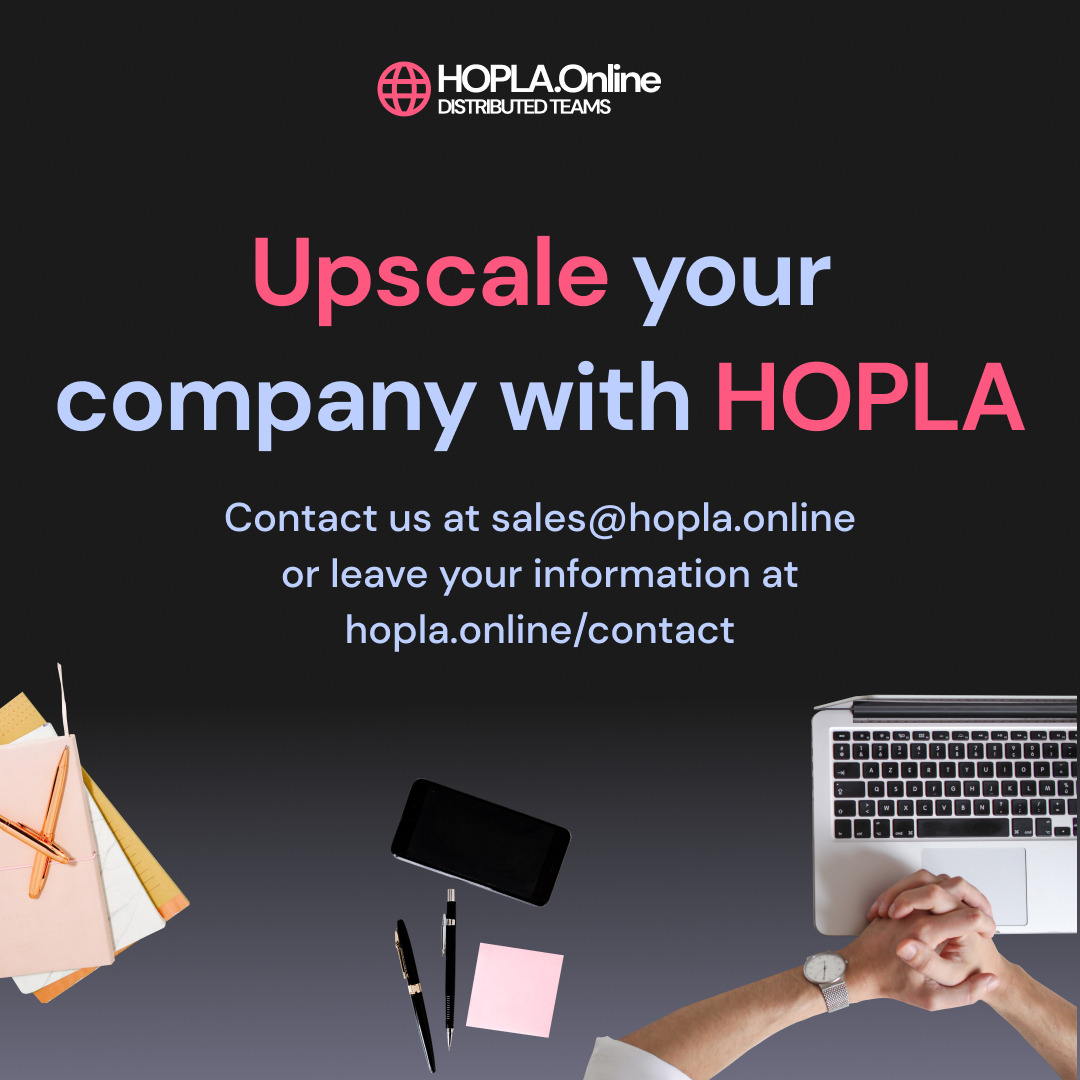 Our assistance does not end when you have finished recruiting team members. With our competitive HR experts, we ensure the well-being and operational support of your remote team members throughout your partnership with us!
Remember
As businesses seek to streamline operations and reduce expenses, outsourcing has grown in popularity. If your company lacks the expertise required to perform certain tasks or if you and your team are overburdened with monotonous tasks, outsourcing may be a cost-effective solution. Define your goals, choose the right outsourcing partner, communicate clearly, and monitor progress when deciding to outsource. HOPLA.Online offers a solution to facilitate remote work by handling key operational aspects, investing in proprietary tools, finding the best-suited team members, and providing ongoing support and training to ensure their success.
If your company lacks the expertise needed to perform certain tasks, outsourcing can be a cost-effective solution. Rather than investing in costly training and hiring inexperienced staff, outsourcing allows you to tap into the skills and knowledge of external experts.