On Personal Assistant Websites' Hidden Risks
Administrative and support,
Customer support,
Customer support representative,
Executive assistant,
Hopla Jobs,
Virtual assistant,
Virtual assistants,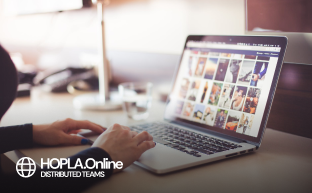 On Personal Assistant Websites' Hidden Risks
In this new digital age when just about anything and everything can be done online, a considerable number of personal assistant websites have sprung up. Their goal: to offer a one-stop-shop solution for businesses, brands, and users who want to hire a personal assistant that works remotely for them and their needs.
Why have an online virtual assistant in the first place?
Personal assistants have, after all, become one of the most highly-in-demand online professions. A lot of business owners choose to hire a virtual personal assistant so they won't have to do repetitive tasks and focus on the vital decision-making. With a personal assistant that possesses the right set of skills, a great deal of the robotic tasks that they find they have to do on a day to day basis is quickly completed by someone else while they can turn their full attention to vital company processes, improving efficiency and more.
Even with the idea that AI has developed far enough that they may do a lot of these tasks themselves, business owners just prefer working with a human virtual assistant. Having a real live person on the other side of the screen doing the work for you, someone you can directly communicate with and easily clarify tasks with, or provide your personal handbook, still worlds better than an AI assistant. They understand the human element of the tasks far better than any automation.
Personal assistant websites have grown in number to address this demand for virtual assistants. But with such a proliferation in a market, it becomes difficult for a business owner to seek out an agency that gives them the most for their money and provides them with full transparency. While the benefits of online virtual assistants are extensive, the risks taken with them and their agencies aren't as discussed.
Hidden Fees in Plans
It seems straightforward: a virtual assistant basically does your most basic and repetitive jobs but at a much lower hourly rate. You only pay for the work that they do. Unlike in-house employees that require a full construct of wages and benefits, they're the more cost-efficient solution.
But it might not be so simple. Personal assistant websites could have hidden costs. You might not just be paying for the work. Extra rates and usage fees might have been slipped into your plans. Things such as recruitment costs, discreet salary markups or unusual taxes may be added. Other excess fees might go unnoticed if you opt for hourly pricing, a monthly, or a yearly package plan.
Cybersecurity Concerns
Another major concern that you might be risking with an unethical personal assistant website is with data and cybersecurity. The virtual assistant will be doing your tasks for you, which means they get access to your email and your accounts.
You need to have implicit trust and confidence in the security of the agency and the trustworthiness of the people who work for them. Reinforce this before giving the personal assistant websites access to these accounts. This goes especially for assistants who might be sending out emails or information on your behalf.
In addition, these virtual assistants could have access to any number of calendars, diaries, data sheets and more. It's important to find an assistant who is responsible. You also need one that is able to do the job with great care and accuracy. Any mistakes in the data may lead to losses. As the work is going to be under your account, you may end up taking the fall for an assistant's mistake.
Overall, having an online personal assistant could be an immense advantage to you or your company. As a business owner, the advantages of having a virtual assistant means huge savings. There's also a large amount of productivity time returned to you. Finally, there's a lot less concern for the minutiae of the work. They take the basic work off your hands and lets you focus on the major decision-making. You'll be supervising a lot better. You also get more time to supervise production and make plans to improve and develop.
Other than Personal Assistant Websites
While HOPLA is not a virtual assistant website, it has a roster of excellent talents that can do a variety of administrative and creative tasks. These talents can answer to the needs of a business owner or a company that requires remote work. All of this comes at no hidden charges, costs, or extra fees. Everything is secure as well with our VDI solutions. The talents in the roster are able to maintain a high standard of performance, just as any company owner expects.
Learn more about HOPLA and all the services it can offer for you remotely at www.hopla.online