Fun Facts About Home-Based Companies
Hopla Jobs,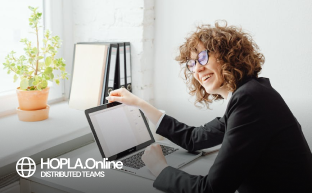 Fun Facts About Home-Based Companies
Home-based companies are consistently on the rise in almost all kinds of industry, opening more opportunities for talents bounded by geographical locations with highly relevant qualifications. The work-from-home set up has been receiving different feedback from professionals, business owners, and workers alike. Sure, flexibility and the ability to work remotely sounds sweet to the ears. But the traditional picture of work from home where an employee starts the day at midday on his PJs while having his first sip of coffee seems too laidback that some people get skeptic on the idea that sincere working habits can be practiced at the comfort of your home.
This stigma usually influences employees' decision-making whether they should trust and work with remote companies and employees stay traditional. It's time we end it by debunking myths and recognizing how seamless and success-driven business processes can be when they discover working with home-based companies in perfect harmony.
To be fair, we accept the fact that work from home doesn't work for everyone. But looking at remote companies who have established great success with this setup, it's not too much to think that the most common impressions about remote workers aren't true at all. These fun facts will definitely revamp home-based companies face and reputation in the biz.
Home-based companies can operate 24/7
Although remote companies could use the help of chatbots to run the business nonstop, human employees can actually operate a business 24/7/365. When a team is distributed all over the world, it's not impossible to keep the operations running as they work in different time zones. A good night from someone in the US can be someone's good morning in Asia.
Home-based companies are full of energetic people
The most energetic people are employed by home-based companies. Online work can be tough and energy-depleting sometimes. Given that remote employees save more time from travel hours, office gossips, and unavoidable conference meetings (which are often irrelevant to them) give them more energy and enthusiasm for talking to clients in a fun, friendly, and still professional way.
Productivity is not equal to long working hours
Remember when you're done with all your work stuff but can't leave the office because it's not yet 5? Instead of spending time with your family or playing your favorite sports, you stay in your desk until the clock hits magic number 5. Work from home companies dismisses that habit by allowing an employee to maximize their time for other things that matter — be it non-work related. Anybody can clock out as long as the work gets done. Quality work is often produced by a highly focused employee who works smart in an efficient and effective manner.
Home-based companies employ happy individuals
Let's face it. Online work can be lonely if you're not fit for this arrangement. Some people thrive in an office environment while some individuals prefer a quiet and private room where they can focus with zero chance of distraction from co-workers. Home-based companies make sure to employ remote workers that are happy with this structure who find growth by working and collaborating with a team while working solo on tasks assigned to them. They achieve a great deal of satisfaction for every work done and become an indispensable asset to the company and the clients.
Employees have a (virtual) icebreaker room
Gossiping doesn't sound good but if it means asking your co-workers how they weekend went or updating everyone about your new dog named Buddy, there's a room for that, too! Online collaboration tools like Slack allows a team to spend some downtime in a thread specifically created for icebreakers, giving work from home a sprinkle of human touch — just like in an office-based setup. This encourages a team to better know their colleagues by simply having a casual talk in
HOPLA introduces distributed outsourcing that fits businesses of kinds and size. Working with home-based companies like us might sound challenging, especially you don't have prior experience in building a remote team. We are ecstatic to guide you building your team of dedicated remote workers that aspire to make your company big and no less than successful. We are more than willing to assist you in every step of the way. Schedule an appointment with us and let's further discuss how we can tailor-fit a unique strategy for your business. Call us today!