HOPLA Tips: Preparing For A Work From Home Job Interview
Hopla Jobs,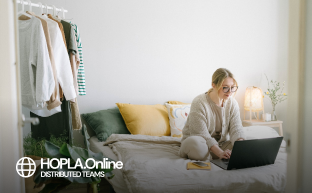 HOPLA Tips: Preparing For A Work From Home Job Interview
Taking a leap into working remotely is an exciting venture. You are ready to face the challenges of working from home and all the perks that come with it-the flexible schedule, no commute, and staying with your pups or kids all day long while earning a steady income. Before getting to experience all that, you must ace that work from home job interview first. Good thing managed outsourcing company HOPLA is keen to help you gear up for the interview that may change your work-life. Here are some job interview tips to jumpstart your career at working remotely.
Preparing for your work from home job interview
Check your equipment. Work from home job interviews are done remotely as well, which is why it is imperative that you ensure your internet speed is fast enough to take the call. Test your webcam and the application that you'll be using. Additionally, a headphone or headset can help minimize the background noise. Are you having your work from home job interview via Google Hangout or Skype? Download the application and do test calls to make sure that your webcam and microphone are in tip-top shape.
Set up at the right location. Select a quiet space and use a headset. This is how pro remote workers to do a job interview. The interviewer will be interested to see your workspace, so don't take it lying in bed or sitting in the kitchen. It is still a job interview, after all. You wouldn't want your interviewer to see your workspace with visual distractions or background noise.
Let there be light. The interviewer needs to see you! Check your lights to ensure that there are no shadows blocking you from the webcam during your interview. You can put a light behind your computer to illuminate your face. Don't forget to dab some powder on your nose to eliminate the shine.
Be professional. Make sure you are available at the agreed schedule. Set a reminder in your calendar and don't be late! Join the call at least a minute early. If you can't join the call, notify your interviewer in advance. This will show that you respect the recruiter's time and other candidates' too who can take your timeslot.
Mobile phones are for emergencies. Take the call from your mobile only in case of an emergency. Having a webcam is an obligatory requirement for 95% of home-based jobs, so you should use it.
Acing the actual work from home job interview
Now that you've got the logistics all sorted, let's get you ready for the actual work from home job interview.
Match your skills with the job. Research about the job and what it entails. Try to think of how your work experience matches with the job. During the job interview, your recruiter will be interested in getting to know you more to gauge how fit you are for the job. They would want to learn more about you as a person and not just what they can read on your CV.
Smile and focus. Look into the camera and try to build rapport with your interviewer. Add color to the dates and job titles on your CV when you are asked about your work experience. Feel free to paint a picture of your accomplishments by telling them what excited you about the project, the challenges you faced, and how you overcame them.
Have your portfolio on hand. The recruiter can ask you to present some of your work and having your portfolio ready prevents you from scrambling to give examples. Having your portfolio with you can also help better illustrate your story.
More job interview tips from HOPLA
In addition to telling your story, you can also prepare for your work from home job interview by thinking of how your skills can complement the role. Recruiters are looking for individuals who can step up to the challenge and excel in the position. They will want to know if you are self-organized, the type of person who strive to deliver work on time, and passionate about what you do. Show that you are reliable, have a can-do approach to work and do not compromise quality. Most importantly, be yourself. It's easier said than done sometimes, but you will find that letting your true self shine during the interview can lessen stress. Less stress means being more comfortable in engaging your interviewer and keeping their attention on you.
Still feeling uneasy about your work from home job interview? Practice. Remember that the best way to be prepared for an interview is to practice. Practicing in front of a mirror or with a friend using your equipment may seem awkward on paper, but practicing can help you pace your speech, be comfortable in establishing eye contact, and build your confidence in doing the actual interview. Take these tips from HOPLA to heart and it's just a matter of time before you get a follow-up interview or better yet, land the job itself. Go for it. We wish you luck!