Virtual Assistant Companies In Demand Even For BIG Companies
Virtual assistant,
Virtual assistants,
Virtual Assistant Companies In Demand Even For BIG Companies
The digital advancement has changed the way people work. Waking up early, dressing up and facing traffic just to get to work is now a thing in the past. Thanks to the internet, work has revolutionized. Remote work dominated the business industry and with it, came the rise of Virtual Assistants. In fact, statistics say that there are more than 4 million administrative assistants in the U.S alone, including virtual ones. However, the numbers do not stop growing. Thus, to meet the demands, Virtual Assistant Companies continues to surface the business industry.
It is true that this industry is booming. But, have you ever wondered why? The answer is simple. This is because even big established companies outsource virtual assistant services. But, why? Let's take a closer look at the companies which hires these professionals and why.
Companies which seek help from Virtual Assistant Companies
Dell
Dell is an American computer technology company that is based in Round Rock, Texas. It develops, repairs and sells laptops and computer. Its company is committed to workplace flexibility as they believe it to be a key enabling them to compete for the best talent. Because of this, they are one of the big companies that embrace outsourcing.
Unbelievable, right? You might be seated in front of your computer and asking yourself, "why?"
Simple- because Dell wants to compete with the best talents. Hiring virtual executive assistants allow them to focus on what they do good. Asking help from these specialized companies saves them from the vortex of administrative tasks. This way, Dell can ensure that menial tasks are done on time while they focus on high-level tasks.
Google
Google is known in any part of the world, by any age group. I mean, who would not know the search engine giant, right? Despite the strict confidentiality in its hiring process, Google does not deny the fact that it outsources individuals to handle some of its processes. Because, why not? Google has its hand on every tech pie that they can no longer handle everything in-house. And, with all the things that they need to manage, process-based, repetitive task is not part of their priorities. The reason why they hire virtual administrative assistants. And, knowing Google, they would not settle for anything else but the most experienced and highly skilled virtual assistants from around the globe.
Asking help from a managed outsourcing company, like HOPLA, allows them to work with the best talents from across the globe. Talents who are highly skilled and trained to do the administrative tasks with accuracy and preciseness.
Enterprise Holdings
Enterprise Holdings offers extensive car and truck rentals, car sharing, fleet management, retail, and car sales and other transportation services. It is also one of the most known companies who embraced outsourcing.
For Enterprise Holdings, it is all about taking good care of people. That is why they believe that outsourcing talents, virtual administrative assistants for one, help their business grow. Outsourced individuals have a variety of backgrounds, unique knowledge, specialized skills and they believe that all these are beneficial to the growth of their business. Imagine having people with diverse culture working on your team. You have a workforce who can deal with customers no matter where they are from. Moreover, with a multicultural workforce, you will have fresh ideas, apt solutions and a healthy exchange of opinions. All these on top of the time you have to focus more on what will make your business grow. Win-win, right?
HOPLA offers you a wide pool of virtual administrative assistants coming from different parts of the world. Our diversified workforce will provide you with virtual assistant services that will meet your needs and expectations.
These professionals are really in demand nowadays. However, they are not the only talents being outsourced. Likewise, these three are not the only companies who have embraced outsourcing. Below is a list of other companies who allows people to work virtually.
Amazon
Apple
Microsoft
Working Solutions
VIPKID
Rev
3M
AT&T
Slack
GitHub
With all these companies seeking help from Virtual Assistant Companies, the in-house job is really a thing in the past now. Gone were the days when work means going to the office and braving the heavy traffic. Why do big companies outsource their talents you ask? Below are the other reasons why.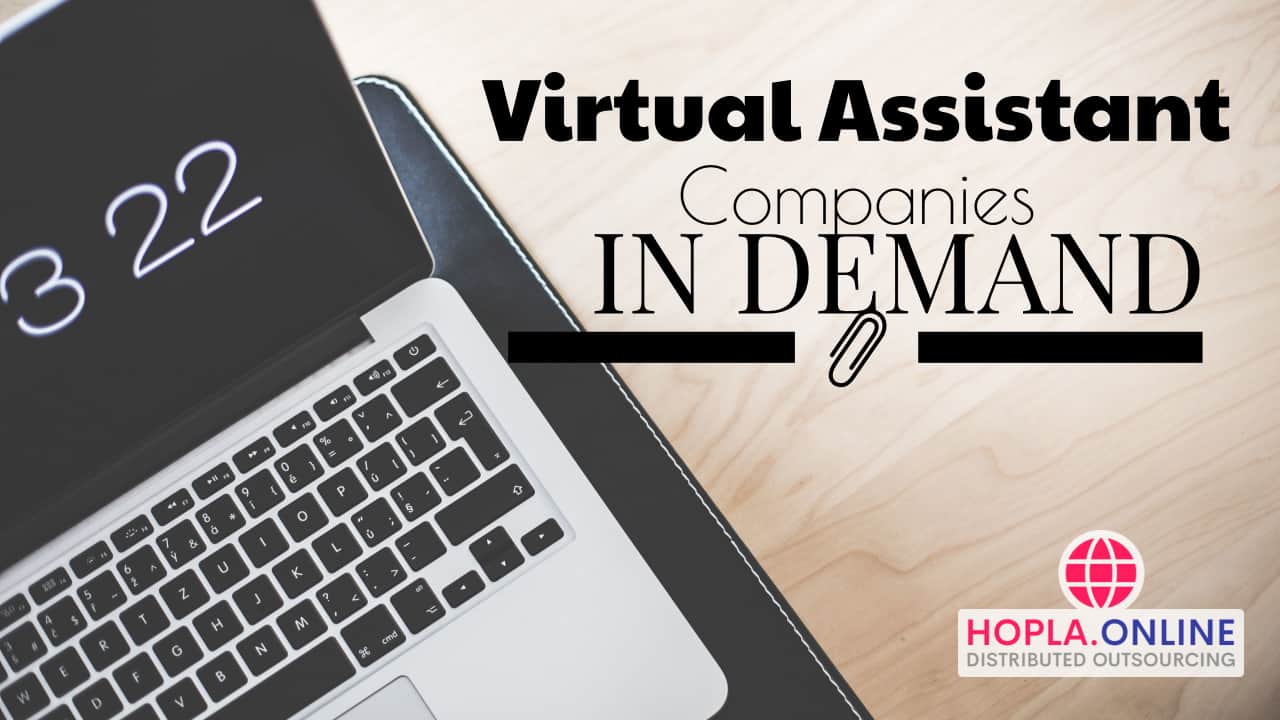 Why did Big Companies choose to Contact Virtual Assistant Companies?
Aside from the reasons mentioned above, big companies continue to get in touch with VA companies for the following reasons:
It is Cost Efficient
A capital is needed for a business to grow. Outsourcing substantially reduce the capital you need, leaving you with more fund allocation for your growth and expansion.
Outsourcing will save you office space, management, and developmental costs. Likewise, it will also save your domestic staff for localized work. Sounds great, right?
It Won't Overwhelm You
Delegating Tasks will avoid getting overwhelmed
The success of every business depends on its employees. Keeping employees sane will prevent them from overlooking processes that might affect how your business runs.
Hiring a virtual administrative assistant helps in managing menial tasks, duties, and responsibilities. This way, you can delegate high-level process to you in-house staff who specializes in it.
Improve Quality
HOPLA, as one of the virtual assistant companies, ensures that you land with the best talent that would meet your demands and needs. With our trained individuals, we assure you the best fit for your company who can be your eyes and ears in the market. This way, we can work hand-in-hand in improving your products and services.
Here are other virtual assistant services that we offer:
Respond to emails and phone calls
Type documents, emails, letters, and take notes
Schedule meetings and manage daily calendar
Book travel and accommodations
Manage a contact list
Perform market research, management, and acquisition
Create presentations
Perform additional assignment and responsibility on request