Remote Web Designers For Recruitment Firms
Web designer,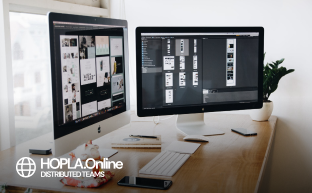 Remote Web Designers For Recruitment Firms
So, your recruitment agency is now running like clockwork. You've completed outsourcing your remote staff and you've geared up for an exciting business journey. What next? How do you find clients and turn website traffic to lead generation and leads to eventual clients? The answer is quite simple. Leave it to your remote web designers to communicate through visuals.
Obviously, setting up a website is a business milestone in whatever industry you're in. It is the best way to reach potential clients, partners, and investors in the digital age. For recruitment agencies, a website makes your business known to job seekers and employers. It is where they learn about what you do and the advantages of doing business with you. Your website is a good opportunity to showcase why it's more cost effective and convenient to hire talent through you. In addition, it is also a platform where you help turn genuine interest to budding careers. Remote web designers can bring you more than just website traffic because freelance web designers and developers help carve your niche and exhibit the unique recruitment service you offer in what is already considered as a saturated market.
Remote web designers influence user experience
Web designers plan, create, and conceptualize website design ideas that delight user experience. In a study by Jozef Toth, Senior UX/UI Consultant at Pfizer, he found that judgments alone on the credibility of a website are 75% based on a website's overall aesthetics, which means considering how vast the online community is, your website's overall look-and-feel can make or break user traffic.
A variety of industries need web designers in particular, who often work remotely to fully exercise their creativity. They have rich experience in handling diverse types of projects. More so, they create the look and feel of a website by leveraging their innovative way of thinking in executing your business model through cutting-edge technology.
What web designers can do for your recruitment agency
Web design is not just about visuals and quality content. It's also about strategically positioning content on your homepage or landing pages to attract the right talent you need for an open position. Working closely with content writers, web designers employ different techniques to ensure that recruitment agencies understand and communicate a hiring manager's requirements. Here are some of them:
Producing Video Job Ads. Posting a video of the job description can easily give job seekers an idea of what the job entails. This visual presentation can contain a gallery of your office environment, including company branding, employer ratings, and testimonials from employees. A video can give job seekers a clear idea of what to expect with the job.
Planning a Vibrant Eye-Catching Layout. Aside from an interesting copy, your website's color scheme and font styles influence the way your visitors receive your message. A vibrant layout is an introduction to who you are as a brand. They can tease your visitors through landing pages' aesthetics. For instance, a cleverly arranged layout can lead them to closely examine your online job boards or career pages.
Positioning Happy Photos of Staff. Recruitment is all about building relationships and getting to know people. One way to initiate that introduction to your brand is to show pictures of your smiling, friendly employees. They know how these photos can put job seekers at ease and as a result, can give visitors a glimpse of your teamwork and professionalism.
HOPLA Remote Web Designers make a mark in the art of recruitment
In the competitive world of talent acquisition, it's no longer enough to simply close deals with hiring managers and client companies. Indeed, showing your brand and industry expertise through a reputable website is a must. Maximize your remote web designer's creative finesse with HOPLA. Our human resource genius can match you with one of our versatile remote pool of talents.
Let's get you more high-quality talents in no time. Call us at HOPLA today.