Data Security & Virtual Desktop Infrastructure For Remote Teams
data entry,
Hopla Jobs,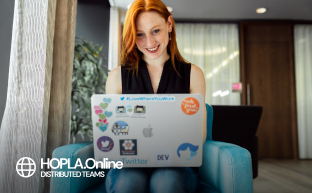 Data Security & Virtual Desktop Infrastructure For Remote Teams
Living in the age of digital revolution, computing technology has turned out to be an important factor in business models nowadays. The rapid advancement of technology gave rise to the Virtual Desktop Infrastructure, that secures the data of big corporations beyond the industry standard HIPAA compliant protocols for data security.
What is Virtual Desktop Infrastructure?
Virtual Desktop Infrastructure (VDI) is a virtualization technology that hosts a desktop operating system on a centralized server in a data center. VDI is an improved variation of the server-based computing model.
VDI has two main approaches: are persistent and nonpersistent. In the persistent approach, each user is provided with his or her own desktop image that can be customized and saved for future use just like a traditional physical desktop. Whereas in the nonpersistent approach, users are provided with a pool of uniform desktop that they can access when needed and revert to their original state as they log out. It is just like your Microsoft Windows desktop.
At HOPLA, we acknowledge the value of desktop virtualization to make end-user computing environments more reliable, more secure and easier to support. And although generally, Virtualised Desktop Infrastructures is only affordable for big enterprises, we make them accessible to businesses of any size when managing their remote teams with us.
How Does a Virtualized Desktop Infrastructure Guarantee Data Security?
Data security is a true concern these days, and remote employees do not put those concerns at ease. Ideally, you have them all on lockdown, without mobile phones and frisk them as they enter and leave the office. But the truth is, nothing is more effective than a properly setup VDI.
One of its benefits is security. With a VDI, all data is stored in the cloud with firewalls protecting it from any unauthorized access, may it be external or internal. This means that no data can be accessed from lost or stolen laptops that use VDI because the device does not contain any data, and the access to the VDI can be managed remotely by management.
Moreover, this can be configured not to allow printing, downloading, uploading, installing programs, browsing the web, or accessing email. This makes the actual data extraction impossible except for making screenshots. For the latter, HOPLA has proprietary tools that discourage such extraction and make the extracted data identifiable with the extractor in case it does happen.
Finally, if you need your staff to connect to your servers and want to prevent any unauthorized access due to loss or sharing of credentials, a VDI offers the solution in combination with limiting access to it's IP address.
HOPLA provides managed Virtual Desktop Infrastructures that prevents employees from downloading or capturing Personal Identifiable Information and other sensitive business information better than physical offices can.
Save Time & Money through Virtualized Desktop Infrastructure
Did you know that maintaining and managing your Personal Computer's hardware and software amounts to 50-70% of the total cost of ownership of your PC? This, added to the amount of money you spend on licensing and capital savings might be too overwhelming. What if we tell you that there's a way to cut your expenditures?
Virtualizing Desktop Infrastructure allows you to replicate virtual desktop instances in the cloud. This means that everything is hosted in the data center, and all your staff needs is a simple computer or Chromebook to connect to this instance. Thereby reducing the cost on the provision of new desktops and on the installation of drivers, applications, and patches. VDIs also help reduce desktop management and support costs as only one environment has to be managed, instead of multiple individual ones.
Apart from always running the latest hardware, and therefore boosting the productivity of your staff, a VDI also requires minimum internet bandwidth to connect and work smoothly. While working the user enjoys the bandwidth of the server that is greater than 100MBPS and unmetered. This becomes a valuable add-on when working with staff in 3rd world countries where old hardware or slow internet can considerably decrease their output.
Make Virtual Desktop Infrastructure part of Data Security Policy!
In VDI, the desktop operating system is run and managed in a data center. This is where the desktop image is delivered over a network to an endpoint device. This allows the user to interact with the operating system and its applications as if they were running locally. The endpoint may be a traditional PC, thin client, or even a mobile device.
At HOPLA, we value the fact that one size does not fit all. That is why we personalize your own Virtualized Desktop Infrastructure that would cater to the needs of your company.
Experience Virtual Desktop Infrastructure Benefits with HOPLA
Virtual Desktop Infrastructure gives you the benefit to access applications and documents from multiple devices without compromising its security and confidentiality. It also allows your staff to enjoy consistent top-notch performance and internet speed while working.
At HOPLA, we set up Virtualized Desktop Infrastructure for corporate clients on a regular basis. With our in-house expertise and partnership with the best hosting providers, HOPLA is positioned to help you set up your own VDIs.
Contact us now and have your own VDIs set up right away!