Why You Should Build Your Remote Teams With HOPLA?
Hopla Jobs,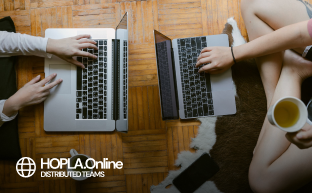 Why You Should Build Your Remote Teams With HOPLA?
At HOPLA, we understand that certain skills suit specific cultures better than others; talent pools vary per country and different company cultures may require a different approach. Our focus is to build remote teams that are easy to manage. Functions that are typically very time-consuming, admin-driven, data and process-related. We've zeroed in on locations that service these functions exceptionally well, so regions like Southeast Asia, Eastern Europe & South America are a perfect fit for our model.
Have we made you an advocate of building a remote team yet? You'll find that workforce globalization will be the new norm, sparking innovative thinking and productivity. To get the right mix of people in your remote team, we have put together a successful, integrated approach. We'll take care of key operational aspects: recruitment, HR, payroll, communication, tools & systems and support.
Building a Successful Remote Team starts with Recruitment.
We start by fully understanding your resource needs, whether this is for a single staff member or building an entire remote team. We'll create a clear plan identifying sourcing channels for the right candidates, the journey to go-live as well as the onboarding of your new staff members into the HOPLA remote working environment.
Interviews will be conducted one-on-one during initial assessments by our recruitment experts. We then administer different tests, which vary from skill to personal focused exams. And during final interviews, we invite you to join via our video conferencing tools and make the final selection of your staff.
The timing of each phase can vary depending on the job description for the roles being hired, although if we have matching CVs in our database that are available, we can move from registration to offer in a day and quickly set up your remote team.
Talent Acquisition & Management for Remote Teams.
We use a highly integrated recruitment application that will enable us to target the best and the brightest, attract specific talents and offer candidates a smooth onboarding process. The tool allows us to:
Create, manage and publish job postings. This function integrates with our hiring team and recruitment experts to give everyone full visibility.

Screen applications. As this can be a tedious process, we make use of shortlisting systems to filter those with the highest matching criteria.

Engage with candidates. Building a relationship is key with remote workers. We engage with them in real-time to keep their interest.

Fully assess and provide the job offer. We'll involve you after we have made a shortlist of candidates. We manage this through various applications and options up to actual job offers.
Onboarding your Remote Team & HR
Both you and your remote team members will be oriented to the values, tools, support and other perks that come with being a part of HOPLA. We have developed a culture handbook for everybody in our community. Our remote principles focus on making the journey to build remote teams as seamless and fun as possible!
There's a first-day onboarding session where we'll walk you through everything HOPLA: management support functions, tools & systems as well as our buddy system. In the first few weeks, we'll regularly touch base to make sure you get the hang of all our tools. We'll provide you with guidance on how to improve staff engagement, solve any issues, become a great remote team manager and build an awesome remote team culture.
After onboarding, you can start training your new staff member or remote team. We'll still be there to hold your hand and provide ongoing support
At HOPLA we take our employee and client relationships very seriously; this is why we drive strong relationships and proactive communication. With our advanced tools, you don't have to wait for monthly reports. And unlike other outsourcers, you can get in touch with us at any point in time. Our leadership and support teams are based in various time zones across the globe which makes communication very accessible.
Tracking & Communication when you Build Remote Teams.
Once you and your staff are onboard and trained, it's all systems go. Building effective remote teams requires a mindset shift from the traditional ways of working to a self-driven and inspired approach. Therefore, we have adopted the latest tools and technology to become the most efficient management partner to build remote teams.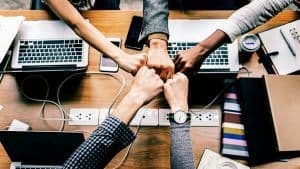 We like to avoid email clutter! In traditional office environments, it's common to go back and forth on lengthy emails, copying the entire organization only to find out that a planned conference call was needed to get everybody aligned. At HOPLA, we cut out the noise and keep communications effective with the right management tools that are also fun and easy to use.
Payroll & Management of Remote Teams
Our easy-to-use time-tracking and employee monitoring software allows you to accurately track the progress of all employees in your remote team, as well as actual hours worked. It makes remote management easier and more fun. You'll have visibility to their logins, activity, URL tracking, and application monitoring.
Each employee will have their own unique name and data, which lines up to the hours worked and eventually the salary payout. Your staff or team get paid only for their actual hours worked, which is another checkpoint in controlling their day-to-day activities.
Remote working is our mantra and so we encourage our workforce to enjoy the time they spend working at home. With us, it's about spending time wisely and efficiently.
Build Task Management into Remote Teams
Plan, track and manage tasks through an application that lets you assign and control the work output of your remote staff. Create a number of different tasks that you or the creator can assign to staff or other staff members in the team. Assign a timeline, manage deadlines and track progress while the work is being done. Once a task is done, it will show as completed including the hours tracked against it. You can view and track the progress on the web as well as on mobile.
Information Management with Remote Teams
While task management is critical, documentation and information sharing when you build a remote team are key as well. At HOPLA, we value real-time interaction, taking away the traditional hurdles of sending email, information-sharing, uploading, downloading, waiting for feedback, all of which delay output. You and your remote team will share and create a unique information share point that can be accessed at all times and have the following functionalities:
Creation of files

Documentation

Access control

Web and mobile application

Real-time views

Comments and edits

Integration with team members
Staff will find it easy to work with and you will receive real-time updates on what they have done and what they are working on, made available to you anytime, anywhere.
Communication Management with your Remote Team
Daily communication is key to working remotely. Our tools to ensure quick interaction, data sharing, video conferencing, team meetings, and more. In the end, it's about getting things done in an easy and effective way to ensure the remote team you built love to collaborate with you. Some key points that define our communication:
It's continuous

It includes relevant data

Presentations to clarify findings

Conferences to sync up with the team

It's asynchronous of nature

Resides in a secure cloud environment.
Your interaction and daily communication are key to making your remote team company culture fun and productive. We strive to truly build a solid community in remote teams and encourage social interaction.
Our tools are embedded in our remote working values and are fully integrated with each other. You don't need to worry about setting everything up, explaining and educating your staff and provide ongoing support because that's what we do for you. We'll help you build an engaged and productive remote team so you can focus on the core elements of your business.
HOPLA Values & Vision when Building Remote Teams
Our philosophy is to bring work to the homes of people where they are nurtured in a safe online working environment and are away from the hassles of unnecessary commute or downtime. We believe that traditional office spaces will no longer exist in the near future and working from home will become a norm rather than an option.
Our HOPLA Remote Team Values
Efficiency – We automate simple tasks, prefer simplicity and get the job done.
Collaboration – We don't work in silos and enjoy getting input from our teammates on tasks and projects.
Perseverance – If we make mistakes, we reach out for help, figure out what went wrong and find a solution.
Result – We're success-driven and focus on what we're good at.
Transparency – We're direct and prefer to steer clear of unnecessary corporate politics.
We immerse each HOPLA member into our culture and principles—that's what will make their experience unique and special.
To build a remote team can be daunting, and it is surely not an easy ticket to success. Just because people are cheaper by the hour on the other side, doesn't mean the grass is actually greener. When you consider building a remote team you must be aware of the challenges, cultural differences, and changes you have to adapt to managing your staff. The technology is ready, and big corporations already take advantage of remote teams to find the talent they need, and lower costs, but not without significant investments or the in-house know-how. HOPLA seeks to be the missing link for entrepreneurs and SME's to make building a remote team a realistic next step. We have the experience and know-how to source, screen, and manage remote teams, so you can stay focussed on your core business. Schedule an obligation free strategy call today and find out what a remote team could mean for your business.