Home-Based Companies Benefit From Co-Working Spaces
Hopla Jobs,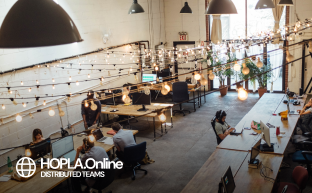 Home-Based Companies Benefit From Co-Working Spaces
Home-based companies need not be defined as the act of working from your own territory. In previous years, the drastic growth of co-working spaces in various countries has contributed to the possibility of an out-of-office working setup. In relation to this, home-based companies, also often called as remote companies, gained a wider option for when it comes choosing a working location apart from their homes.
For the record, getting a seat in a co-working space can be a lot cheaper than building a conducive working space at home not to mention the presence of distraction that might sometimes get out of control. A previous study by the International Workplace Group (IWG) states that there's a significant correlation between flexible working options and productivity and business growth. Here's a breakdown of how co-working spaces work to the benefit of remote working.
Benefits of co-working space to home-based companies
Co-working appeals to small business owners and startups like digital marketing agencies and most creative talents who are looking to up their game in the industry. Most of them came from an in-house or work-from-home setup and the decision to move to a shared space can be considered a big step. They need not worry though, as co-working spaces cater the same in-house perks that you get to enjoy minus the stressful environment and unnecessary gossips.
Conducive workplace – Once you sign up to a co-working space, you get a comfy work area for every mood. Some co-working spaces offer a private room for those who do customer service calls or online work meetings. You also get access to conference rooms in case you need to meet someone personally to discuss crucial matters. If you're lucky enough, you can find pet-friendly co-working spaces so you can bring your furry friends on not-so-hectic days.
Tech support – When you work from home and suddenly encounter a technical glitch, it could cause some delay. Not fun when you're working on an urgent task! Co-working spaces often have IT support team for when their clients need some help. When you need a projector for a presentation, some co-working spaces can also offer it for free or on a per-hour rental. Be it a problem with your computer or the internet connection, the tech team could assist you to have a seamless working experience during your stay at a co-working space.
Unlimited coffee – If you tend to get coffee drunk while working (or if your job demands you to be a vampire), make sure to scout for co-working spaces that serve overflowing coffee. This may or may not be charged in your monthly or weekly membership but if coffee is a big deal, make sure to find a good one in your area.
Networking opportunity – The only difference of staying in a co-working space and working office-based is that you get surrounded by individuals who might be a potential network for your next project. Greeting someone "hello" at the pantry could be the start of a discussion that might lead to a closed deal. Meeting random people from different industries open more opportunities for you and the company you work for.
Partners in success
Looking at the big picture, does the boom of co-working spaces go against the vision of remote companies? Definitely not. Home-based companies aspire to send their employees home in the hopes to achieve a higher productivity rate. But doesn't mean they should be locked inside the corners of their homes.
Some people thrive by working alone. But the longing for people to discuss your ideas with can be terrible. Co-working spaces cater to intangible needs like this. Remote companies aspiring to get a spot in a co-working space should definitely go for it. There's a lot to learn from the outside which can be a daily source of motivation for you to do better each day.
Ditch the idea of co-working spaces corrupting the vision and goals of remote working. Instead, we should see both parties as partners in success in hitting the peak of business goals of each everyone involved.
HOPLA pushes for flexibility
HOPLA, a team of distributed talents, supports its remote employees in finding the perfect work environment for each individual. We support the idea of flexible working to the advantage of both HOPLA employees and the management. When our talents are happy, they become produce excellent output that gets a big thumbs up from our clients.
Want to know more about our secret? Call us to learn how we can give you happy and success-driven remote professionals. Schedule an appointment now!