Start Managed Outsourcing With HOPLA
Hopla Jobs,
Start Managed Outsourcing With HOPLA
During the last decade outsourcing has become a popular way for growing business to lower costs, find talent and overcome growing pains like being short of office space. However, successful outsourcing is not a given, hence managed outsourcing companies arose.
Managed outsourcing is similar to outsourcing, but with help of industry experts. Outsourcing is a business trade on its own, not something you can do on the side. It involves coping with different business cultures, and bespoke ways of management.
There are many ways you can setup, run and manage remote teams. And there are also many tools that allow you to do so efficiently. If you are planning to outsource you either do your homework thoroughly, or you choose for a solution.
Why would you go for a managed outsourcing solution?
People come to you because you are good at what you do, and you wouldn't be reading this article if that is outsourcing. You are reading this article because you are so successful at what you do, that you need an extra set of hands. And unless you want to venture abroad and set up a foreign company, with all the legislation that comes along with it, you are probably right you googled for "managed outsourcing" in the first place.
Outsourcing is a great way to scale your business to the next level, it lowers your cost, gives you access to a greater talent pool and you don't need more office space. But if you are new to outsourcing you might very well get caught up in all the responsibilities that come along with it. Outsourcing management handles all the additional and new responsibilities that come along with building and managing a remote team, so you can keep focused on growing your core business.
It frequently is the missing link, and its absence more often than not result in bad outsourcing experiences. An outsourcing management partner is experienced in sourcing, screening, testing, training, and managing staff in specific regions. And the outsourcing cost of working with one is usually offset by the great time savings and agility that come along with it. And time savings and scaling were why you ventured into outsourcing in the first place, so why do it yourself?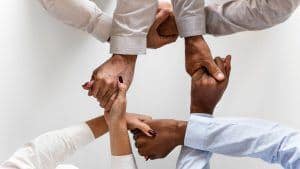 How does Managed Outsourcing with HOPLA work?
All you need to do is look at your team and ask yourself "Am I / Are we spending a great deal of my time on easy tasks, admin activities, data entry & process duties?" If you answer in the affirmative (and realize you need to focus on more important, strategic tasks), think HOPLA!
With HOPLA, starting with one or a few distributed team members is very straightforward. It allows you to wet your feet in the distributed outsourcing world, experience how we work, and once you're comfortable with the remote team we built you, scaling it is at a push of a button.
To get started send us a list of functions you require or specific job descriptions. We'll study your information, and provide you with our recommendations on the role and skills required, in what regions we would look for, and what salary ranges you can expect. Our global team of business and talent analysts will finalize the job specifications with you and start sourcing initiatives.
Our team will source, interview, match and shortlist candidates who will participate in skill tests, one-way video interviews, submit their resumes and expected compensation. You'll shortlist candidates you wish to speak with so that we can invite them for a live video call. We will communicate our preferences, but the final pick is always up to you.
Once you have selected your new staff, we'll go through a thorough onboarding process that will make sure both you and your staff are comfortable with all that is HOPLA (i.e. payroll system, tracking tool, management & communication tools, community boards & buddies, our support people and teams, etc). This is where we really differentiate ourselves from any other outsourcing providers.
Ongoing Managed Outsourcing Support after After Live
After go-live, we'll continue to provide you with operational support for all the HOPLA management tools so you become an excellent remote manager in no time. Also, if you need help training or managing your staff, our door is always open. Our interest is in building long-lasting, effective and growing remote teams for our clients.
While we do advocate for remote working, employee engagement remains key to our success. We provide our community with key tips on improving work ethics, output, quality of work & communication best practices. We also strive to make remote work a fun, productive and sustainable journey.